The Professions of the Narcissist
By: Dr. Sam Vaknin
Click HERE to view the video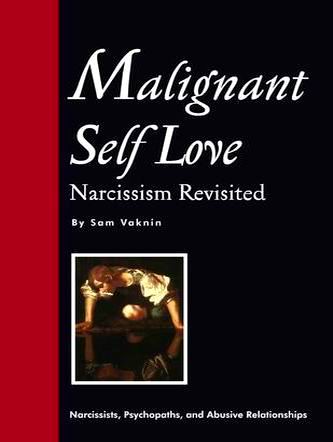 Malignant Self Love - Buy the Book - Click HERE!!!
Relationships with Abusive Narcissists - Buy the e-Books - Click HERE!!!
---
READ THIS: Scroll down to review a complete list of the articles - Click on the blue-coloured text!
Bookmark this Page - and SHARE IT with Others!
---
---
The narcissist naturally gravitates towards those professions which guarantee the abundant and uninterrupted provision of Narcissistic Supply. He seeks to interact with people from a position of authority, advantage, or superiority. He thus elicits their automatic admiration, adulation, and affirmation – or, failing that, their fear and obedience.
Several vocations meet these requirements: teaching, the clergy, show business, corporate management, the medical professions, the military, law enforcement agencies, politics, and sports. It is safe to predict that narcissists would be over-represented in these occupations.
The cerebral narcissist is likely to emphasize his intellectual prowess and accomplishments (real and imaginary) in an attempt to solicit supply from awe-struck students, devoted parishioners, admiring voters, obsequious subordinates, or dependent patients. His somatic counterpart derives his sense of self-worth from body building, athletic achievements, tests of resilience or endurance, and sexual conquests.
The narcissistic medical doctor or mental health professional and his patients, the narcissistic guide, teacher, or mentor and his students, the narcissistic leader, guru, pundit, or psychic and his followers or admirers, and the narcissistic business tycoon, boss, or employer and his underlings – all are instances of Pathological Narcissistic Spaces.
This is a worrisome state of affairs. Narcissists are liars. They misrepresent their credentials, knowledge, talents, skills, and achievements. A narcissist medical doctor would rather let patients die than expose his ignorance. A narcissistic therapist often traumatizes his clients with his acting out, rage, exploitativeness, and lack of empathy. Narcissistic businessmen bring ruin on their firms and employees.
Moreover, even when all is "well", the narcissist's relationship with his sycophants is abusive. He perceives others as objects, mere instruments of gratification, dispensable and interchangeable. An addict, the narcissist tends to pursue an ever-larger dose of adoration, and an ever-bigger fix of attention, while gradually losing what's left of his moral constraints.
(continued below)
---
This article appears in my book "Malignant Self-love: Narcissism Revisited"
Click HERE to buy the print edition from Amazon (click HERE to buy a copy dedicated by the author)
Click HERE to buy the print edition from Barnes and Noble
Click HERE to buy the print edition from the publisher and receive a BONUS PACK
Click HERE to buy electronic books (e-books) and video lectures (DVDs) about narcissists, psychopaths, and abuse in relationships
Click HERE to buy the ENTIRE SERIES of sixteen electronic books (e-books) about narcissists, psychopaths, and abuse in relationships
Click HERE for SPECIAL OFFER 1 and HERE for SPECIAL OFFER 2
Follow me on Twitter, Facebook (my personal page or the book's), YouTube
---
When his sources become weary, rebellious, tired, bored, disgusted, repelled, or plainly amused by the narcissist's incessant dependence, his childish craving for attention, his exaggerated or even paranoid fears which lead to obsessive-compulsive behaviours, and his "drama queen" temper tantrums - he resorts to emotional extortion, straight blackmail, abuse, or misuse of his authority, and criminal or antisocial conduct. If these fail, the narcissist devalues and discards the very people he so idealized and cherished only a short while before.
As opposed to their "normal" colleagues or peers, narcissists in authority lack empathy and ethical standards. Thus, they are prone to immorally, cynically, callously and consistently abuse their position. Their socialisation process – usually the product of problematic early relationships with Primary Objects (parents, or caregivers) – is often perturbed and results in social dysfunctioning.
Nor is the narcissist deterred by possible punishment or regards himself subject to Man-made laws. His sense of entitlement coupled with the conviction of his own superiority lead him to believe in his invincibility, invulnerability, immunity, and divinity. The narcissist holds human edicts, rules, and regulations in disdain and human penalties in disdain. He regards human needs and emotions as weaknesses to be predatorily exploited.
---
Also Read
The Narcissist in the Workplace
Narcissists in Positions of Authority
Narcissists in the Workplace Chat Transcript
Bully at Work - Interview with Tim Field
The Psychology of Corporations and Corporate Officers
Pathological Narcissism - A Dysfunction or a Blessing?
The Narcissist's Confabulated Life
Interviews and Articles in the Media
---
Copyright Notice
This material is copyrighted. Free, unrestricted use is allowed on a non commercial basis.
The author's name and a link to this Website must be incorporated in any reproduction of the material for any use and by any means.
---
Frequently Asked Questions about Pathological Narcissism
Excerpts from the Archive of the Narcissism List
After the Rain - How the West Lost the East
Internet: A Medium or a Message?
Write to me: palma@unet.com.mk or narcissisticabuse-owner@yahoogroups.com